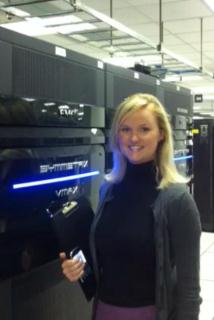 Greetings, SciCheer fans! This is a fun interview with a cheerleader who's fully in touch with her inner engineer: Liz even included her own visual aids! [Updated 1/7/14. See what she's up to now!]
Howdy, Liz! Let's start out with the basics: what got you interested in engineering?
I took a computer programming class my junior year of High School. I was the only female in the class which was just the start of my "not fitting the mold" ideology I had all during college and now in my current job in IT. I found the class very challenging and rewarding. After the first few tests, I realized that I was scoring better than most of the class, causing my confidence in myself to rise significantly. Around the same time, I was excelling in geometry, then in pre-calculus. It felt more natural and even exciting to get a really long math equation correct versus reading an English book. I knew I wanted to become an engineer during my senior year of High School. Throughout college, I was in the minority as a female in engineering, however, I became accustomed to it and knew that it was my brain that would shine and help me accomplish my goals in life.
You have a bachelor's degree in computer engineering technology. What got you interested in that field?
I really enjoyed writing computer programs, problem solving using logic, and math. With computer programming, I can manipulate information to get an anticipated desired outcome. It was very exciting to learn how to code and figure out how a computer actually works and processes information.

Favorite and/or most challenging courses you took to prepare for your degree? Why?
One of the most challenging courses I ever took during college was called Integrated Systems. In this class we combined programming skills, electrical engineering, and logic. We were taught how to use logic to program a microprocessor. One lab in particular that stands out was an "analog to digital converter."
In this lab we programmed a microprocessor to read a (analog) voltage and to display a (digital) light pattern. If I turned the analog knob to what the needle read as "1.75 volts", our microprocessor would read this, determine how many volts this was, then output which pins to light up on a (digital) seven segment display (see image to the right).This lab sticks out in my mind because of my professor, who was also the department head at the time, told me he was very impressed and complimented me that it was the most accurate he had seen for that class.
You were a Project Manager and are now an IT Manager for Duke Energy. What sorts of IT projects does Duke Energy need to develop? What sort of work do you do?
Duke Energy has a large IT department. IT Operations manages the company email, server support, IT Security, storage, database, workstation support (laptops and desktops), and day to day operations.
As a Project Manager, I implement IT projects to help us save money, replace old technology with new technology, become more efficient, or introduce new services. I use a tool called "Project" to help me plan all phases of the project, from start to finish (analyze, design, test, implement). I spend a lot of my time meeting with my project teams and making sure everyone knows what tasks they need to perform, and make sure they keep me updated with any issues, risks, or completed tasks on the projects, and get their feedback during planning sessions on what tasks are needed to meet our project goals. The goal of a Project Manager is define a scope at the beginning of the project, determine how much it will cost, and when it will start and end. Throughout the life cycle of a project, I ensure these three items are achieved as close as possible.

Which came first, your interest in engineering or cheerleading?
My interest in cheerleading came first as I started cheering when I was 7 years old. I had so many great memories, so learning the cheers and dances came easy to me! I also had a lot of energy, so being able to jump, yell, dance, and tumble was a perfect fit! The gymnastics part of cheerleading was very fun for me and a great workout!
You cheered for the Cincinnati Bengals for two years. What made you decide to try out to be a professional cheerleader?
I was a high school cheerleader and loved it. When I started college as an engineering student, my academics came first and becoming a college cheerleader in addition to my challenging classes seemed too demanding. During my senior year of college, I decided it was a great time to pursue a professional cheerleading career. My mom and older sister had also been professional cheerleaders for the Cincinnati Bengals, so the notion of doing it myself was becoming more of a goal. I missed performing, dancing, and the pride being part of a team. I was very enthusiastic when I attended their try-outs and loved meeting the other women! I knew this was the right decision!
Best cheerleading experience?
My best cheerleading experience was probably my first regular season game! I was very nervous during a hot September Sunday, and we wore white boots with 3" heels. During the first quarter my nerves started to settle and I realized I was prepared for that game. I was able to enjoy dancing, and cheering for a great team! The crowd was sold out and every time we scored, the energy in the stadium escalated and made it that much more fun!
How do the qualities that make/made you a great cheerleader benefit you in your engineering career?
Cheerleading builds confidence. As a Project Manager, I had to present a lot of business cases to a Project Management Office. This can be very intimidating and you don't always know everyone in the room asking the tough questions. I was able to present my business cases and answer questions with confidence and not feel as nervous as some of the other Project Manager's. I strongly believe the reason I can speak and present my projects without being nervous is due to my experience as an NFL cheerleader.
If you could rewind the clock and change your degree, would you? If so, to what and why? If not, why not?
If I had to change my degree, I would like to get into aerospace engineering. I've always had an interest in space exploration, satellites, and the science behind it. I would love to work for NASA or a satellite company that monitors space activity.
Apart from work and cheering, what are some of your favorite activities?
Some of my favorite activities are reading, wakeboarding on Lake Norman, and making time for family and great friends. I'm currently reading The Girl with the Dragon Tattoo, and highly recommend this book! I also loved the books "Trading Up" and "Four Blondes."
What advice would you give your 12-year-old self?
Life is going to be tough; you will fail and succeed, and not always get what you want. Everything happens for a reason. You may not understand why at first, but keep your faith. You have the ability to overcome everything that will come your way, even if it doesn't seem like it at first.
What have you been up to lately?
I have moved back to the Cincinnati area (where I'm originally from). I am still working with Duke Energy, where I have been promoted to Business Continuity Integration Manager. I'll be performing this role for our Midwest region: Ohio, Kentucky, and Indiana. I'll be accountable for making sure our IT department has updated and reliable disaster recovery plans, as well as leading business continuity programs for the departments that have a Midwest footprint.
Why do you want to be a Science Cheerleader?
I would love to become part of a dance team again, meet other women interested in science, and be a role model. The events that the Science Cheerleaders attend are very exciting and I would love to be part of an organization that attends these events, shares experiences, and motivates young girls! I would love to break the mold of how the world views cheerleaders. As an NFL Cheerleader, many people had a surprised look on their face when I told them I was an engineer. If I can help change that perception, and encourage young girls to pursue an engineering career, I would embrace the opportunity!