Meet Erin, our newest Science Cheerleader. Erin cheered for the St. Louis Rams while she earned degrees in biology and psychology. She moved to Philadelphia to enroll in a Doctorate in Clinical Psychology and Masters in Human Sexuality program. Check out her fascinating fields of interest.
SciCheer: So, Erin, What turned you on to science and when?
Erin: I have many family members in the medical field and had a peaked interest from early on.  Most importantly, I am passionate about exploring the world, how it works and how we function within it.  I have always been very skilled and interested in math and the sciences, which has encouraged my continued study.
SciCheer: I can't believe how many degrees you'll have before too long. Great job! We'll get into your particular fields of study soon. For now, tell us, what team did you cheer for and when?
Erin: I cheered for the Saint Louis Rams (NFL) from 2005-2009.  I was the 2007 ProBowl representative in Hawaii and appeared on the NFL Cheerleader Playoffs, which aired on the NFL Network in the summer of 2006.  I also made many military visits within the United States and overseas to Afghanistan, Qatar, Japan and South Korea.
SciCheer: Favorite and/or least favorite courses you took to prepare for your degrees?
Erin: My favorite courses in Biology were Nerve Cell Mechanisms and Behavioral Endocrinology, and I really enjoyed Organic Chemistry Lab.  I am very interested in the biological foundations and genetic components of behavior.  In Psychology, I love all courses related to Personality/Personality Assessment, Intellectual Functioning, Psychopathology, Neuropsychology and Behavioral Foundations of Human Sexuality.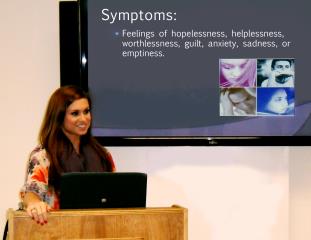 SciCheer: How do you plan to apply your degree? What does this mean?
Erin: I would like to work in a hospital or private practice, doing both assessment and psychotherapy for individuals, couples and families.  I am particularly interested in the interaction between physical health and psychological health based on the unique components that make up each individual and his or her experiences. I find myself constantly amazed at the power of human resiliency and hope on one's physical and mental well-being.  I have an invested interest in helping returning military reintegrate into family life and minimizing negative psychological fall out including Posttraumatic Stress Disorder (PTSD), other forms of anxiety and Major Depressive Disorder.  One of the best things about science is that it allows you to have a wide range of interests and an ongoing desire to learn and explore. I am also very interested in the neuropsychological mechanisms underlying human sexuality (response and dysfunction) and the application of this understanding in a therapeutic setting.
SciCheer: Wow. We'll have to have you back to elaborate on that more. I think many of our readers will find that fascinating. I sure do… OK, which came first? Your interest in science or cheerleading?
Erin: This is difficult to tease out. From the time I was little, I loved dance, cheerleading and performing, as well as science and math.  Science and cheerleading/dance were never mutually exclusive in my mind.  I have many family members in the medical field, including my mother, who is a nurse and legal consultant.  She always emphasized that girls can be smart and talented and most importantly, she instilled the values of both work hard and loving what you do.
SciCheer: Did you find that stereotypes about cheerleaders helped or hindered your studies or professional experiences? (Were you taken seriously?)
Erin: Both. People were often surprised to find out how driven each of us were in our educational and career paths.  Many people think that cheerleading is a career and all that we do. However, I think those stereotypes are being successfully broken down one person at a time as people realize that cheerleaders are successful, bright, talented individuals first and foremost, who simply love performing, football, and being on a team of inspiring women.  The fans in Saint Louis whom we had the opportunity to meet through charity events, appearances and games were our BIGGEST supporters both on and off the field.  In my academic and professional career, once people learn that I was a cheerleader, I often feel a sense of needing to prove my credentials and intellectual abilities; however, I think the combination of my hard work, dedication, and love of what I do speaks for itself.
SciCheer: I think that's a common theme among the Science Cheerleaders…the need to prove yourself a little more than other folks, in the work or academic settings. How did your fellow cheerleaders accept your interest in science?
Erin: Just as I was very interested and supportive of my fellow cheerleaders' careers as nurses, doctors, teachers, lawyers, business owners, public relations specialists, computer programmers, etc., they were very supportive of my career path and interest in science.
SciCheer: Do you have any advice for youngsters who might feel torn between following one  dream (cheerleading, etc) associated with beauty and following another (a Science, Technology, Engineering, or Math career) usually associated with, well, geeks?
Erin: ALWAYS, always, always know that these two dreams can go hand-in-hand.  You can absolutely do both!  Doing the things that you love and enjoy in all areas of life is what makes you into the most well-rounded individual you can be.
SciCheer: Along these lines, what advice would you give your 12-year-old self?
Erin: Continue to seize every opportunity you are presented with.  You never know who you will meet, what you will learn or how that experience will change your life.
SciCheer: What are your plans for the future?
Erin: I plan to continue full-time in school and clinicals throughout the next three and a half years.  I am also involved in research on hope, human attachment in relationships and resiliency that we are hoping to publish within the next year.  Also, I will continue teaching ballet and working with Going Pro Entertainment, a company that specializes in consulting women and teams in the dance and cheerleading industry.
SciCheer: Please keep us posted on that paper. And, we're big fans of Going Pro Entertainment. As you know, they put together the awesome choreography and came up with the uniforms for the Science Cheerleaders performance. Looking forward to doing more work with them. So, your best cheerleading experience?
Erin: This is an incredibly difficult question, as I have many, many special memories.  One that readily comes to mind was our visit to Afghanistan.  Five of us traveled overseas to express our appreciation to the troops and bring a little piece of America with us.  One of the neatest experiences was at a smaller forward operating base, where we performed a show on the back of a flat-bed truck in the middle of the desert for the men and women serving our country.  We then stayed up the majority of the night playing rock-band with the troops and watching the sun come up over the Himilayas while listening to stories about their families at home and experiences in the military.
SciCheer: I see how that experience ties into your interest in helping soldiers recalibrate back at home. Best science-related experience?
Erin: While I was applying for graduate school, I worked for a biotech company out of Saint Louis.  We sold research supplies and prepped DNA for medical researchers and pharmaceutical companies.  I loved vising the labs, getting to know the brilliant researchers and being up-to-date on their scientific advances.
SciCheer: Anything else you'd like to add?
Erin: Just to thank you for the opportunity. I love this cause!! 🙂